The Gryparis restaurant is a hidden gem in Mykonos and might be one of our new favorites!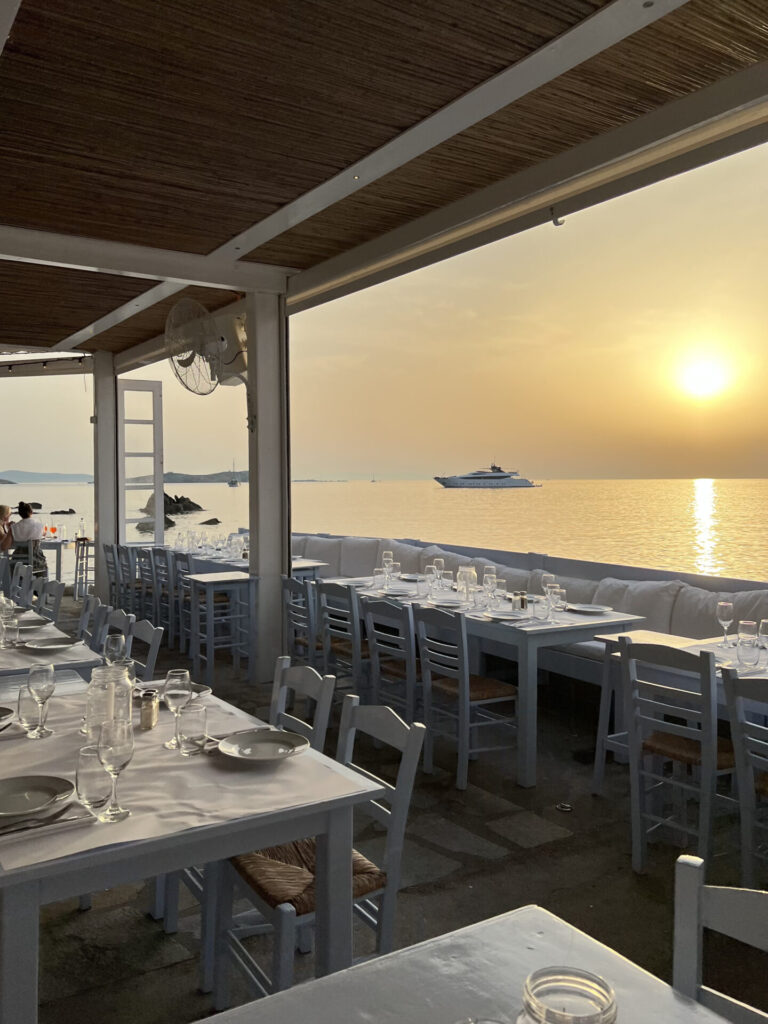 The restaurant changed their name and maybe you might remember it under their old one "Sea Satin". It is located directly by the ocean, under the famous windmills of Mykonos town. 
We booked our table at 8:30pm and it was the perfect time to watch the last minutes of sunset. If you want to have a more relaxed dinner, we recommend you come around this time as there won't be too many people. If you want to have some fun though, you should book your table a bit later to be there when the music gets louder!
The restaurant is especially known for their great seafood. It is definitely expensive but the portions are also very big! We shared a grilled octopus as a starter, which was totally worth it. If you have heard of the place before, you might have already seen their famous pasta dishes. They come in a pan and are served to your plate directly at the table. We opted for the Spaghetti with clams and the spaghetti with shrimps. The price for one was around 50€ – really pricey but again, the portions were really big and one would be enough for two people if sharing starters as well. We can only recommend trying it because the pasta was extremely delicious.
They also serve some special cocktails like the "Champagne fruit cocktail" where you can choose the flavor. We took "peach" and the cocktail tasted like a bellini dream!
We loved the whole venue as everything is kept really simple and mostly white. The sunset light was beautiful and the service was really kind as well. We hope you will love this place as much as we do!