Club 55
Starting off with a true classic and must-visit when in Saint Tropez: Club 55. This beach club might be the most well-known place in Saint Tropez! Stars like Brigitte Bardot, George Clooney or Elton John have visited this cult restaurant!
You get here by walking along a very inconspicuous path down to the beach of Ramatuelle. Everything is kept very simple and mostly covered in their famous blue and white colors.
We tried the Tomato Goat Cheese Salad, the Beef Tartare and the Moules, which we can definitely recommend. Even though you should keep in mind that the prices are very high, we would recommend this place to everyone who doesn't want to miss out on a true classic.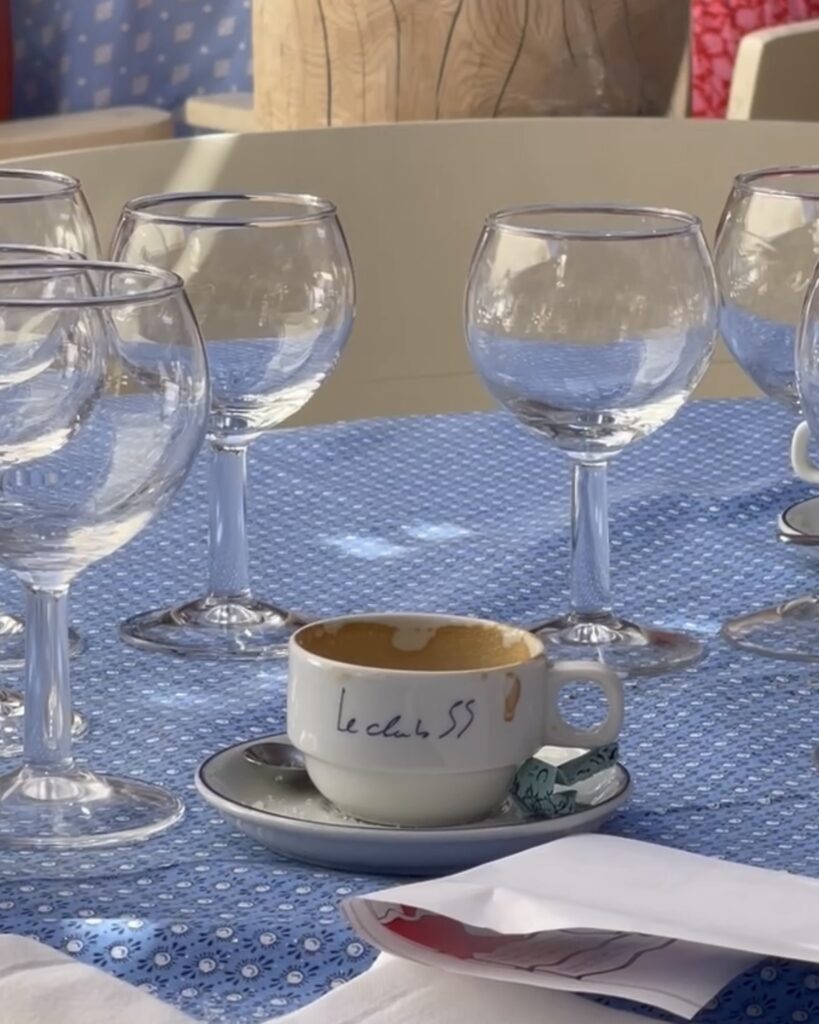 Gigi Ramatuelle
You might have already heard of the new Gigi Restaurant in Paris from our article and this is the matching Gigi Ramatuelle beach club in Saint Tropez!
Here you have different options to choose: They have a pool area where you can book sunbeds for the day, an amazing Bellini Bar and their restaurant.
As Bellini lovers, of course we couldn't miss out on their famous Bellini Bar – which definitely didn't disappoint! Next to Bellini, they have a big selection of signature Gigi cocktails and Italian classics like Negroni, Spritz or Espresso Martini. You can either take a seat directly at the bar or in the lounge area.
In the restaurant, we chose to have the sea bass carpaccio, green beans with truffle and shaved parmesan cheese and freshly made lobster linguini. We can recommend you to try all of it but again, the prices at this restaurant are very high. But if you only want to check out the place we can definitely recommend you to come for a drink and snacks at their Bellini Bar and walk around the property!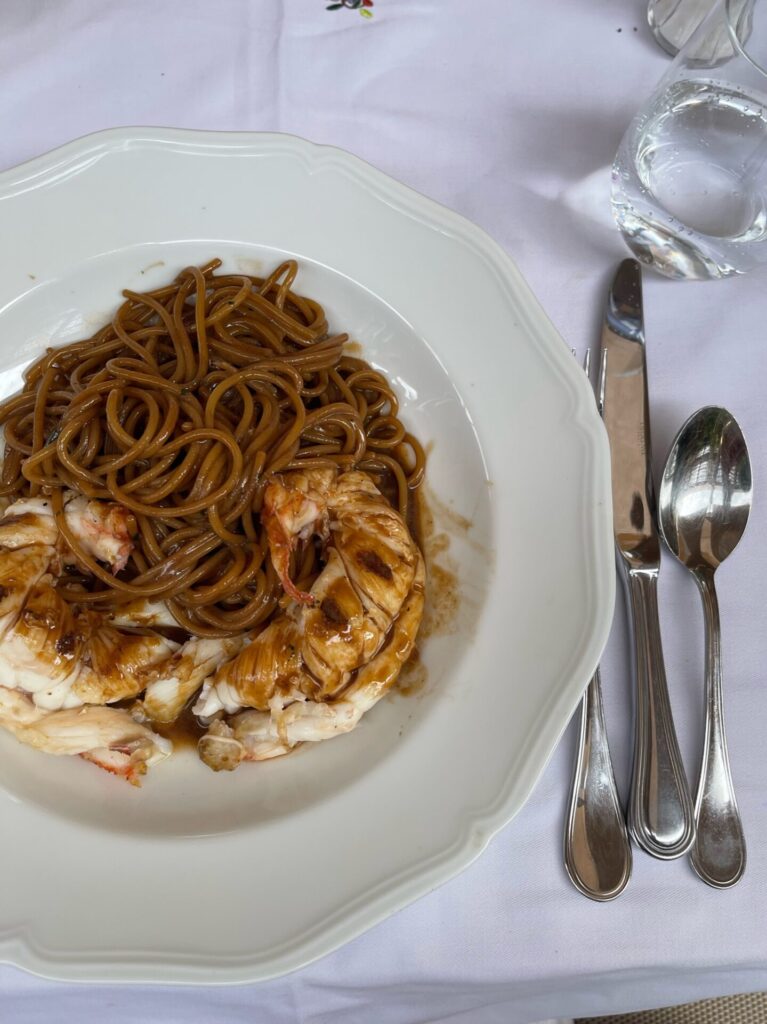 Club Les Palmiers
If you're looking for an ambience: This is your place to go!
Club Les Palmiers is characterized by its elegant and mediterranean atmosphere and of course the good food! The beach club is located at Pampelonne beach and the perfect spot if you want to have a good time and vibe to the music.
Their style is very simple and chic – everything is kept in white and natural colors and fabrics.
We went for a light lunch and had the Shrimp Salad and the Wagyu Beef Carpaccio. Everything is very fresh and we really enjoyed the food!
This place is perfect for lunch with a good vibe but you can definitely also turn up here!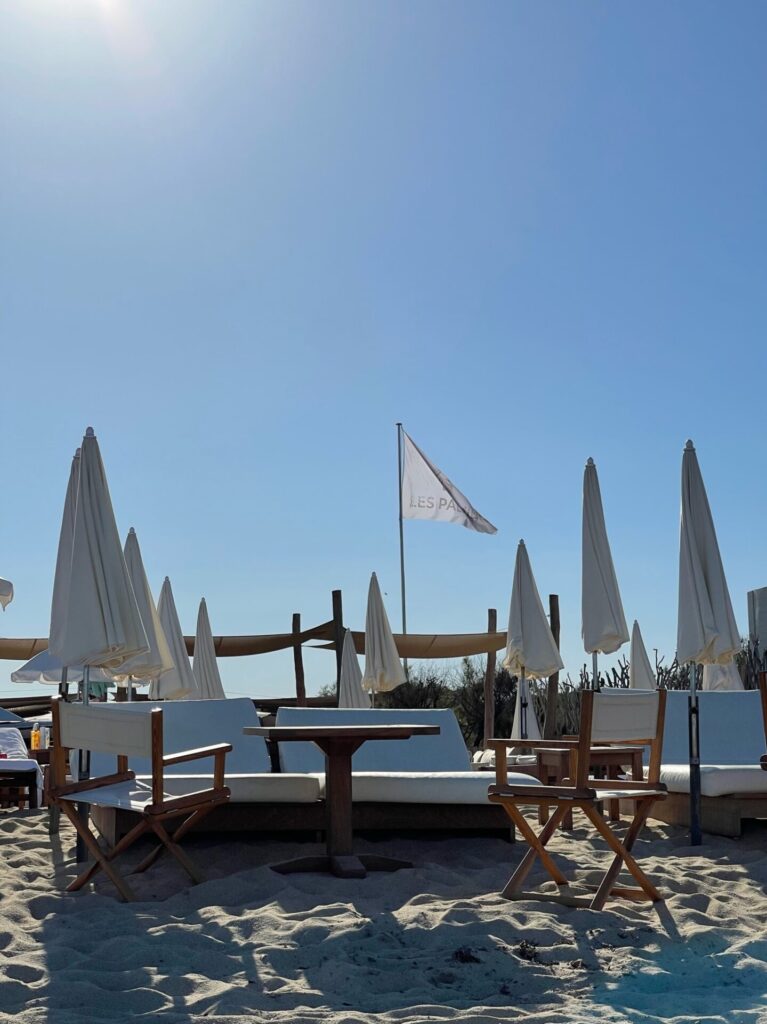 LouLou Ramatuelle
Last but not least: One of our favorite places in Saint Tropez!
Maybe you already know the trendy LouLou at Musée des Arts Décoratifs in Paris and this is their second restaurant at the Ramatuelle beach in Saint Tropez.
This place just has its very own and special vibe. The atmosphere is airy, chilled but chic at the same time and everyone just wants to have a good time! They kept the style of the both restaurants very similar: It's very light, a lot of white and of course: Lemons everywhere!
You can have lunch at the restaurant or book a sunbed at the beach. By the way: Right now the beach club is covered in Burberry branded pillows, sunshades and covers!
We went here to have lunch and choosed the following: Cucumber salad, sliced red tuna with garlic and tomatoes and the grilled octopus with aioli. Everything was very fresh and extremely yummy!
We recommend this place to everyone who wants to enjoy good music, good food and have the best time. LouLou is truly something special – you definitely have to experience it by yourself!