If you're planning to visit Mykonos anytime soon, this place should definitely be on your radar!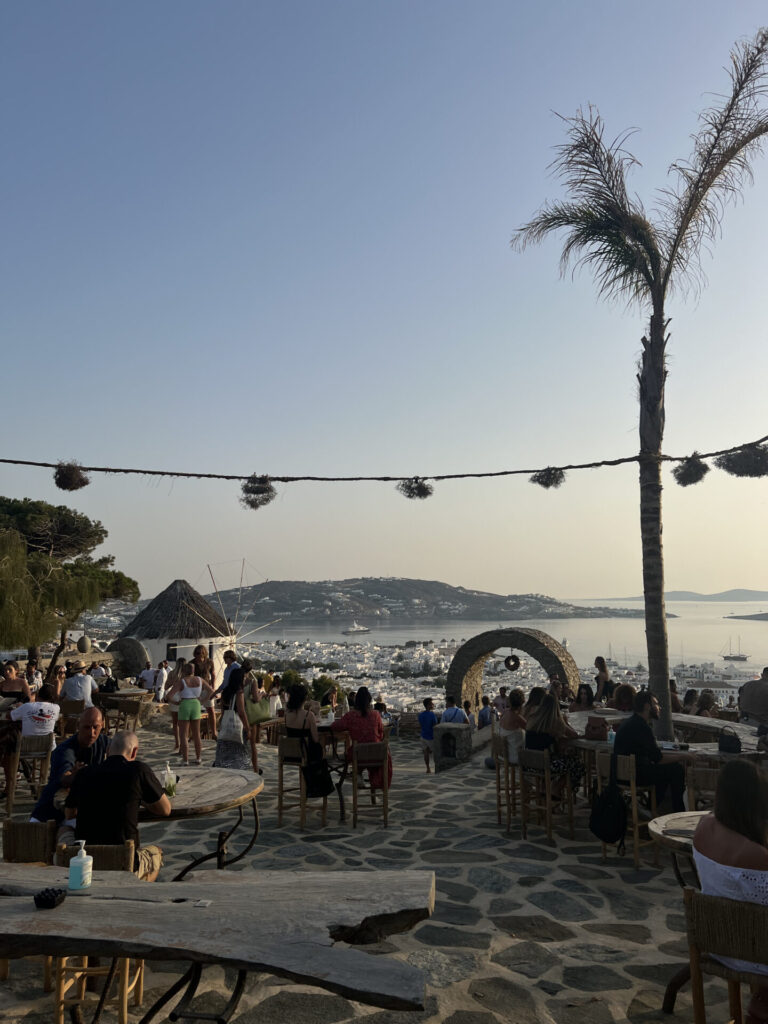 The 180° Bar Mykonos is the most perfect spot to watch the sunset while listening to live music and enjoying some special drinks. You can come here by yourself and park directly in front of the entrance.
The location opens at 6:30pm and if you don't have a reservation, we recommend you come earlier – otherwise the "no reservation"-line will be very long. But in general, it is better to have a reservation where you can also choose the area you want to be seated. In our opinion the best one is the "Main Terrace Front Row" for the best view and most comfortable seats. Keep in mind though that every area has a different amount of minimum spend and in this one it's 100€ per person at the moment.
If you've visited the Bar before, you might remember their snacks like mini burgers or potato wedges. They've changed their whole concept and menu now, but don't worry – the food is still amazing! You have a curated selection of food that focuses mostly on (raw) fish specialties but has some vegan and vegetarian options as well. We tried the "Iconic", which is an octopus carpaccio, the Veal fillet carpaccio "Fantasy" and the Tuna Tartare "Triumph". Everything was beyond delicious and fresh and the service was really attentive.
For drinks, we can recommend some of their special creations like the "Euphoria" or the "Sentiment", which was definitely something new!
The live music and DJ bring good atmosphere but the best part of the evening is when the sun is nearly gone and they play "Time to say goodbye" – iconic! And when you're finished at the Sunset-Bar you can also walk down to the city center – it only takes 10 minutes by foot.
We've had some of our best evenings in Mykonos at this place and we can't wait for you to try it out as well!